Jupiter High School


Classes of 1956 - 1967
UPCOMING BIRTHDAYS
WHERE WE LIVE
Who lives where - select from the dropdown to find out.




Show Alumni on map

The Jupiter High Classes of 1956 - 1967 WEBSITE
Tribute to Niels Nevad JHS Class of '65
Niels and Susan Nevad
Dear Alumni,
As many of you know, we lost Niels our giant Warrior on December 17, 2012. Niels lived with his wife Susan in Cocoa, Florida for the past 10 years. He reveled in spending time with his wife, son. daughter and grandchildren.
It is important that all of you know how instrumental Niels was in creating this website. After he was invited to join the JHS Class of '61 50th Reunion Committee by Larry Stinger, Committee Chairman, the website idea was hatched. Niels willingly volunteered and took full responsibility in creating this wonderful legacy. After the amazing success of the 2011 Multi Year Reunion for the Classes '56 - '67, Niels had another vision.
He wanted to start planning another JHS Multi Year Reunion for Classes '56 - '67 with special focus on the Classes of '64 & '65 celebrating their 50th. Niels wanted a fall reunion, so we could all attend a "Friday Night Homecoming Football Game" at Jupiter High School. We will do our best to make that happen!
We announce with great anticipation and pride the following:
WHAT: JUPITER HIGH SCHOOL 2014 MULTI-YEAR REUNION FOR CLASSES '56 -'67 WITH SPECIAL FOCUS ON THE CLASSES OF '64 & '65 CELEBRATING THEIR 50TH REUNION!
WHEN: OCTOBER 9TH - 12TH, 2014
WHERE: JUPITER, FLORIDA
Niels absolutely loved Jupiter High School and all the wonderful memories of growing up in Jupiter. He was very excited about planning his classes' 50th reunion. If you are interested in joining the JHS 2014 Reunion Committee, please contact Jim Colbert at jimcolbert@att.net or at www.jupiteroldschool.com. Ideally, we would like to have one or two representatives from each class on the committee. We will conduct meetings via web conferencing, which will allow alumni from outside the State of Florida to participate
We continue forward with the vision and legacy of this website www.jupiteroldschool.com created by Niels Nevad, JHS Class of '65, as we express our gratitude, honor his commitment and memorialize his love for Jupiter High School.
******************************************************
This brass plaque was saved from demolition and is currently being placed in a new home outside the current JHS auditorium. More details on Time Capsules and Alma Mater dedications to come.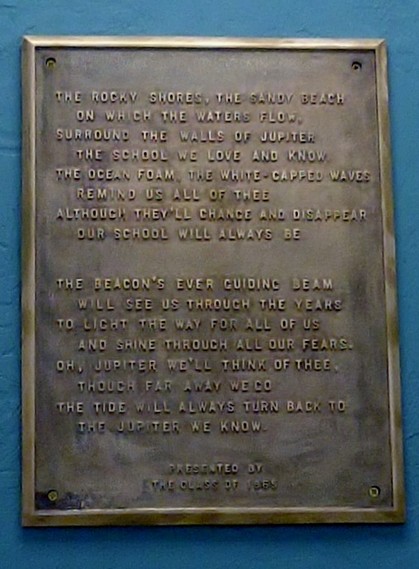 ********************************************************
Just a note some of you may be missing emails, emails have been bouncing back please set your current email to accept mail from noreply@classcreator.net. One other thing to check is your profile and see what email address you are using or if you have changed it but not here at this site, please update, thanks!! Setting up password protection was for your protection in this crazy world of social networking.
**This website is planning to update soon with more information and profiles on the Class of '67 and the other classes of JHS '56 - '67. as we begin to make plans for a 50th Reunion Bash for Classes '64, '65 &'66 as Multi Class Year Event with Classes of '56-'67 invited to attend tenatively in the Fall of 2015. Stay Tuned.
Know these JHS Class of '67Alumni, that gathered at Bubba Gumps' Restaurant recently?? Well....let's check your memory.....starting from left to right......Kathy Gould Vaughn, Bill Bender, Hazel Green Marsha, Lynda Johnston Armstrong, Sue Cox Sebok, Lisa Thayer Jefferson, Jo Anne Roberts Lewis & Grace Sardinha Grenfell.....you folks look "maaaarvellous"!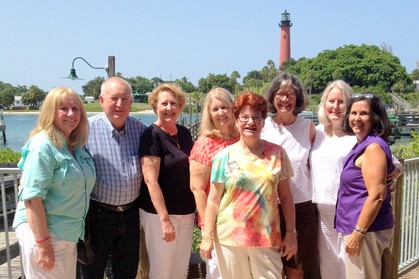 Check this out and your long term memory 3rd Grade Class of '67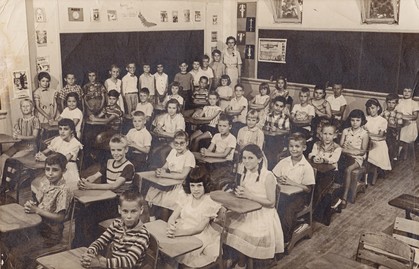 *******************************************************
Class of 1960: Donna Adair's Library Presentation
Donna gave a hugely successful presentation on "An American Odyssey" at the Gardens branch of the Palm Beach County Library. The room was packed! Every chair was filled. Donna received great evaluations and much applause.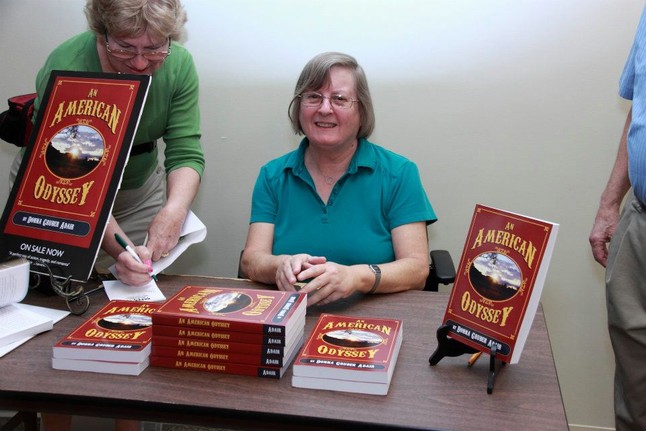 Donna Adair - All photos were taken by Richard Yarlett
************************************************
MORE ON CLASS NOTES!!!
Class of 2011 and 1961(Multi-year Reunion) join together to leave two new time capsules located at the entrance of the current Jupiter High Auditorium. Many thanks to Principal Cheryl Alligood, Assistant Athletic Director Steve Forrest, and Class Sponsor Laura Ferrick for their efforts and hard work to bring this to fruition. Dedication plans will be announced in the fall and watch our website for more information.
.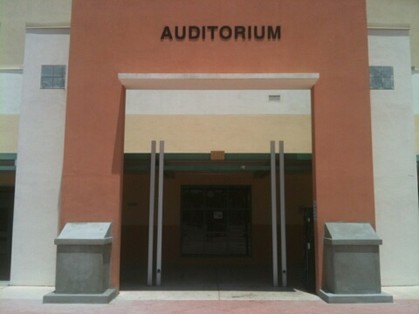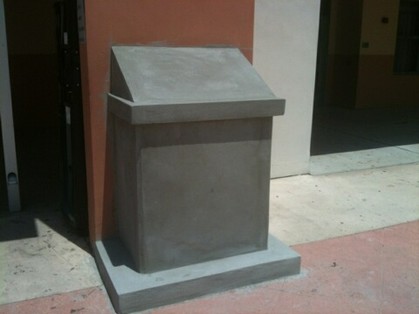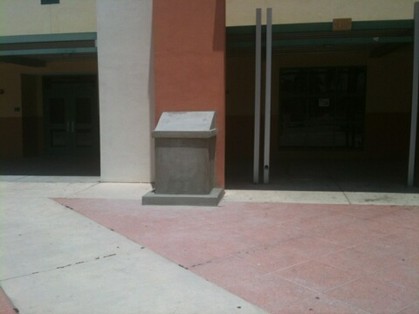 As you can see these are still a work in progress. A list of the contents will be posted closer to the dedication.
PLEASE report on any new reunions or class get togethers in the works, please keep us informed and what the website can do to help!